OHIO
To look up legislation in the Ohio House of Representatives go to:
ohiohouse.gov
You can look up specific bills by subject or their house bill number.
Take Action Now...
On March 2, the House voted 57-35 to pass Senate Bill 215, the constitutional carry bill. Then, it went back to the Senate for concurrence, and the Senate promptly voted 24-8 to concur. It will now go to Governor Mike DeWine's desk for his signature. NRA thanks bill sponsor Senator Terry Johnson (R-14), Chairman Shane Wilkin of the House Government Oversight Committee, and all the other lawmakers who made passage of this critical bill possible in the General Assembly. Due to their efforts, Ohio is getting closer to claiming the spot as the 22ndconstitutional carry state.
Contact Gov. DeWine's office, asking for his signature.
Ohio Lawmakers
Nathan Manning--Ohio Senate
Please contact my office at Manning@OhioSenate.gov to share your thoughts on any bill pending in the Ohio Legislature so that I can keep your thoughts in mind when the bill comes before me for consideration.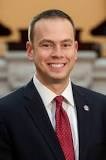 E Mails for local media outlets:
Lorain Morning Journal- letters@morningjournal.com
Elyria Chronicle Telegram- letters@chroniclet.com
West Life- editor@westlifenews.com
Reporters:
Dylan Reynolds- dreynolds@chroniclet.com
Brad Dicken- bdicken@chroniclet.com
Andy Young- ayoung@chroniclet.com
Jordana Joy- jjoy@moriningjournal.com
Karen Uthe-Semancik- kusemancik@2presspapers.com
Elected Officials:
Senator Rob Portman Tel (202) 224-3353 www.portman.senate.gov/form/email-rob
Cleveland 216-522-7095
Toledo 419-259-3895
Cincinnati 513-684-3265
Congressman Bob Gibbs (district 7) (202) 225-6265 or 330-737-1631
Congressman Jim Jordan (district 4) (202) 225-2676 or 419-663-1426
Congressman Anthony Gonzalez (district 16) (202) 225-3876
Congressman David Joyce (district 14) (202) 225-5731
To look up contact info for all districts/states go to: https://www.govtrack.us/congress/members/current